Registration fees
Early bird
(until 17/07)
Regular
(until 22/07)
Junior ABCD member

*

€ 100
€ 150
Full ABCD member

*

€ 150
€ 200
Other participants
€ 280

**

€ 330

**
*If you wish to apply for ABCD membership (regular or junior) to benefit from a reduced rate, please remember that you must do so strictly before 13 July 2015. Applications for membership that reach the ABCD after that date will be normally processed, but you will not be able to benefit from the reduced fee for this meeting. For details on ABCD memberships, please visit the ABCD website.
**The registration price for these participants includes VAT.
The registration fee entitles participants to the following:
Entry to all scientific sessions and poster viewing (including Pre-Congress Meeting for those accepted)
Coffee breaks, 2 lunches (18 and 19 September), and 2 buffet dinners (17 and 18 September), plus dinner on 16 Wednesday for participants of the Pre-Congress Meeting
Congress kit
Social dinner
The social dinner is not included in the fee and costs 20 EUR (+VAT for non members). If you wish to attend the dinner, please select it during the registration procedure. (The effective cost of the dinner is 60 EUR, but the ABCD covers two thirds of it; you need to pay only 20 EUR.)
Payment
The early bird discount applies to payments received until 17 July 2015. Registrations will remain open until 22 July 2015 at the regular price. N.B. Payments must be received within each deadline indicated (if you are paying by bank transfer, please ensure that it is initiated in due time).
Payment is possible by credit card or bank transfer. Further details about the payment procedure is available through your personal myABCD2015 page.
Cancellation policy
Cancellations with a refund request must be sent by e-mail to the secretariat and must be accompanied by a valid justification. Refunds will be decided case by case by the organising secretariat. If accepted, cancellations within 22 July 2015 will be refunded fully, minus an administrative charge of 30 EUR; cancellations within 30 July 2015 will be refunded only by 50% of the total package price; no refunds will be provided after 30 July 2015.
Pre-Congress Meeting
The Congress registration fee (see Registrations & Costs) covers the attendance of the Pre-Congress Meeting for those accepted; dinner on Wednesday, 16 September, is also included. To apply, you must be a post-doc or a Ph.D. student and be under 35 years of age at the start of the congress. You must indicate your intention to participate during the registration procedure.
Participants accepted to the pre-Congress Meeting will receive a travel fellowship of 150 EUR to help defray from their lodging and travelling costs. N.B. To be eligible for the fellowship, the participant must have already paid the corresponding registration fee.
Details about eligibility to participate in the Pre-Congress Meeting can be found here.
Abstracts
Abstracts are accepted exclusively during registration or, after registration, through your personal myABCD2015 page (you will need to register to have access to the latter).
Only one abstract per participant is allowed. The abstract should be submitted by the presenting author only.
Abstracts guidelines:
the title must start in uppercase and continue in lowercase, except for conventional terms (ATP, DNA, NFκB, etc).
if more than one author, underline your name (the presenting author, in whatever position you appear in the author list) and use commas to separate the names; do not use 'and' before the last author. The presenting author's first name(s) and surname should be written in full; for all other authors, write first name(s) as initials and surname in full. If more than one affiliation, use sequential superscript numbers to identify each institution.
the abstract text must be no longer than 2000 characters, spaces included (which is roughly equivalent to 250 words).
The abstract submission deadline is 14 July 2015. The organisers will then review the received abstracts for oral or poster presentations.
Social dinner
The social dinner will be held at Palazzo Isolani, in Bologna city centre (Corte Isolani 8/a), on 19 September at 20:30.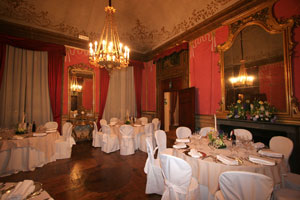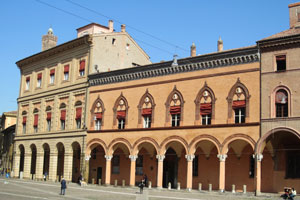 Palazzo Isolani is a beautiful and historical building in the heart of Bologna's medieval centre. It looks onto the splendid Piazza delle Sette Chiese (Seven Churches) and is very close to the famous Due Torri (Two Towers). Along with other buildings in the area, it is still privately owned by the Cavazza Isolani family. The seventeenth-century rooms on the ground floor are richly frescoed, decorated with damask tapestries and furnished with original furniture and paintings. These include portraits of the Isolani and the family of the famous King of Naples, Gioacchino Murat, to whom the Isolani became related in the early nineteenth century.